Gear Review – NV 2.0 Platform Bike Rack by Kuat Racks
In the days of yore, circa 2010, I recall loathing the process of loading my hanger-style bike rack; it was akin to wrestling with an octopus with its two arms and plethora of impossible-to-wrangle hooked straps meant to secure tires. Ridiculous. As a shorter person, a roof-loading rack isn't even a semblance of an option for me. (Trust me, I've tried friend's roof racks and been met with many peals of ruthless laughter.) When my hanger rack no longer accommodated the rapidly evolving shape of the modern mountain bike frame, I finally splurged on a Kuat NV platform bike rack in 2014. At the time, it seemed like a chunk of change to spend on a rack, but a mere 48 hours later the rack paid for itself…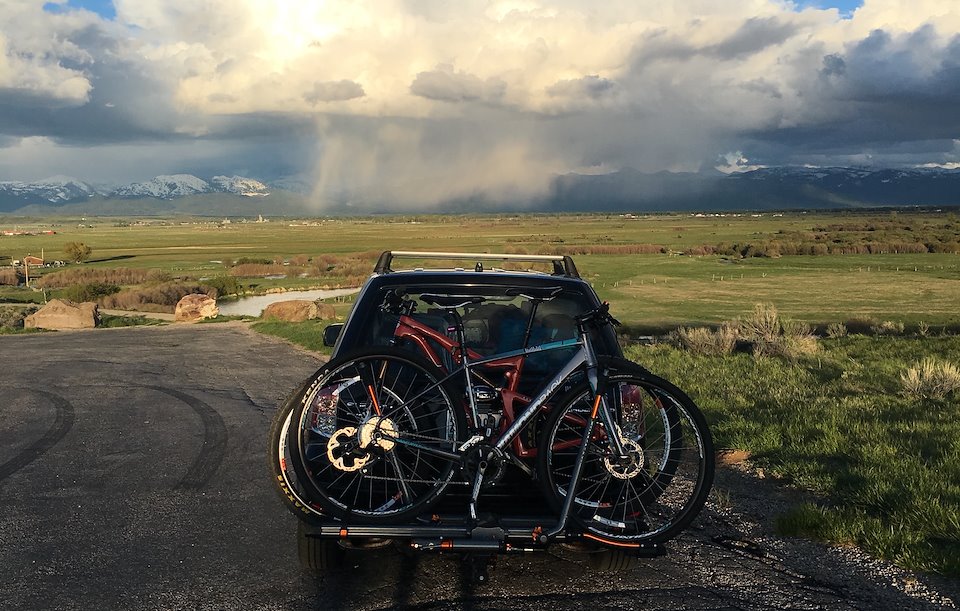 My old girl in her 2nd year of service – Summer 2016
Waiting to execute a maneuver in the left-hand turn lane I was rear-ended at an intersection. With a lump in my throat I pulled over expecting wretched things for my shiny new rack and car bumper. To my utter shock, the rack was almost perfectly intact and my bumper was untouched. The rubber knob cam system and the metal stabilizer bar that runs inside the hitch arm to prevent the rack from swaying were the only casualties.
I called Kuat that day and they offered to replace the parts FREE OF CHARGE! Two days later the parts were on my doorstep. Thanks to the ingenious design, I was able to switch the broken parts out in a matter of minutes. (Please note that this in itself is a small miracle as I generally require Dude Help for the most mundane of mechanical-based chores.) That I was able to restore my brand-new bike rack to…well, brand new, after a fender bender was pretty awesome. Kudos for the stellar service and rapid-fire mailing of FREE new parts by Kuat.
I think it was from that moment on that I became a Kuat fan girl. For 5 years, I abused that rack and have recently handed it on down to a friend (it's still in ship shape) to replace her shitty hanger style rack. In July of 2019 I upgraded to Kuat's latest version of the NV 2.0 Bike Rack to evaluate the evolution of my favorite bike rack.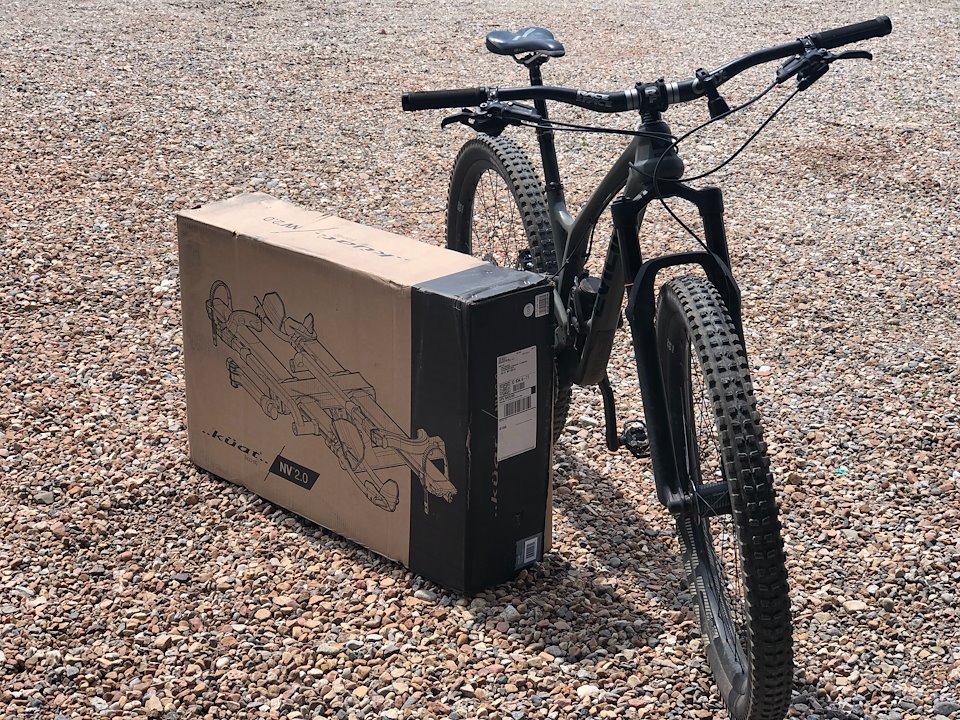 The new Kuat NV 2.0 in July of 2019
"How about scrapping everything we thought we knew, overhauling every feature, streamlining the look, and producing the sleekest, most capable platform rack the market has ever seen?"
---- Kuat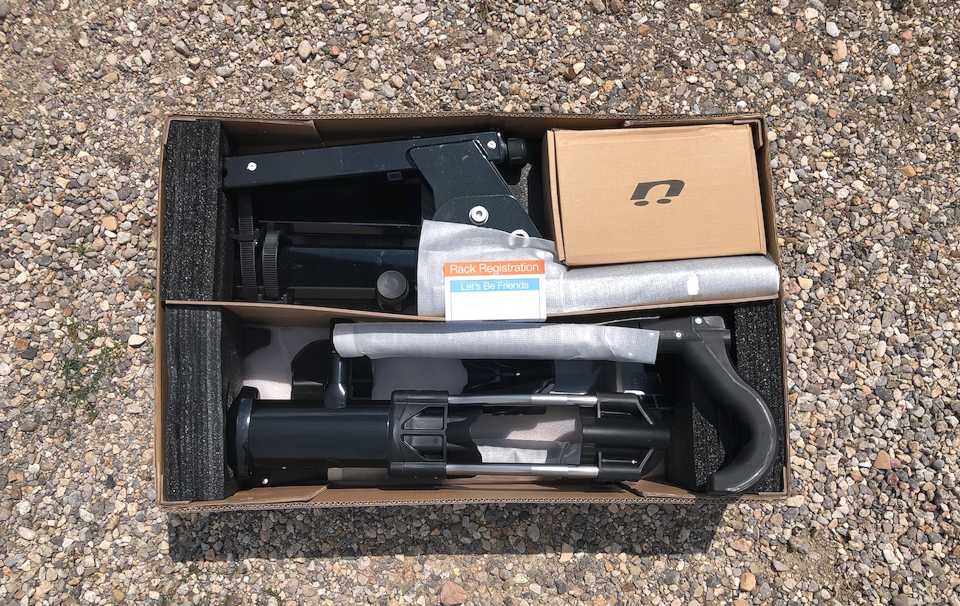 Having spent so much time with Kuat's older model, I felt prepared to put this claim to the test for the new NV 2.0 Kuat Rack.
KUAT NV 2.0 BIKE RACK — ASSEMBLY
I will readily admit I have zero mechanical skills. ZERO. I own a toolbox, I have no idea how to use the things inside of it. I was determined to assemble this rack myself and as someone who also struggles with a touch of the dyslexia (I can't tell left and right apart) I was a little skeptical of my ability to get it right. The kind folks at Kuat provide very simple instructions full of lovely pictures. Even still, I had to stop on Step 3 and watch their instructional video, which was scant on verbal instructions. Even without much help from the video it took me 45 minutes, start to finish, (including YouTube lurking) to assemble the rack and attach it to my hitch receiver. I am confident a competent individual could finish the task in 30 minutes or less. All said and done I would not recommend assembling this rack alone. Because the parts are cumbersome and rather heavy it was exceptionally difficult to set the bolts and then tighten them with just one set of hands. Grab a buddy!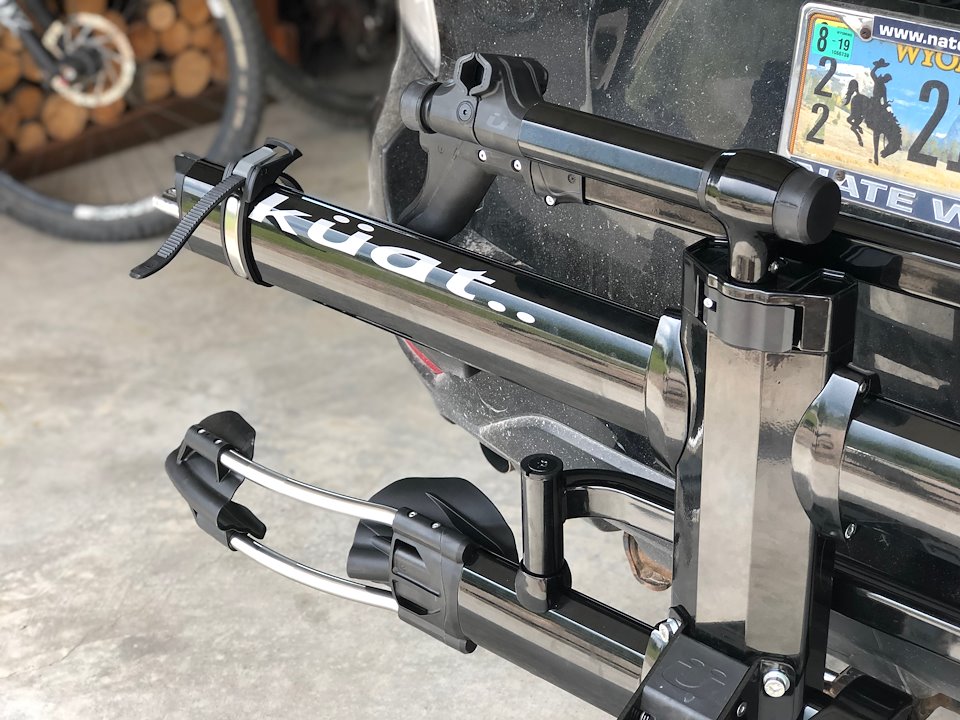 Freshly locked and loaded; check out the newly configured Trail-Doc system sans levers!
KUAT NV 2.0 BIKE RACK — DURABILITY
Rock. Solid. Please see above. 'Nuff said.
Well…on second thought, I suppose I should admit that I spend a lot of time in Wyoming in the summer which involves a respectable amount of dirt road milage. Over the past 5 years my O.G. NV Rack has held up well to the constant barrage of dust, washboard rattling, and general wear and tear. The components have held up admirably and I have no complaints about durability despite extended dirt road overland travel. I don't anticipate that will change with Kuat's latest model.
KUAT NV 2.0 BIKE RACK – GENERAL FUNCTIONALITY
I think the thing I most appreciate about the Kuat Rack is how seamlessly it accommodates up to two 26" bikes, 27.5" bikes, 29-ers, and some of the skinnier fat-bottomed babes. There's not really any fuss or messing about to load bikes, it's simple and efficient. An add-on is available to boost rack capacity of the 2-inch hitch racks up to 4 bicycles, although your hitch receiver does need to be rated for more weight. I do not have any experience with the NV 2.0 Add-On.
The tire hook has smooth action and easily fits over my bike's 29" tires. I will say that the new ratchet system on the tire hook is a bit easier to use so this is a welcome innovation over the older model's push-button mechanism. With the older model I was often forced to show friends how to use the tire hook and that doesn't seem to be the case with the newer model; it's more self-explanatory. The placement of the rear tire strap is well-executed in that it's simple to use, can easily slide along the track, and can be secured quickly. This version of the rear tire strap feels a bit beefier and is easier to manipulate than the older model. In over 5 years of use I never had problems with bikes coming loose or feeling insecure. The same is true for the new NV 2.0 despite constant rattling on the washboard dirt roads of Wyoming.
Kuat states that the front tire cradle system is fully adjustable to prevent bikes from rubbing or clashing. The bikes I have used have not presented any problems, so I have not tested this feature. Sounds like you can adjust the tire cradle up or down to prevent problems. It's nice that this common problem with platform style racks is addressed but I cannot comment on whether it is effective or not since I've yet to encounter a situation where the bikes aren't playing nice.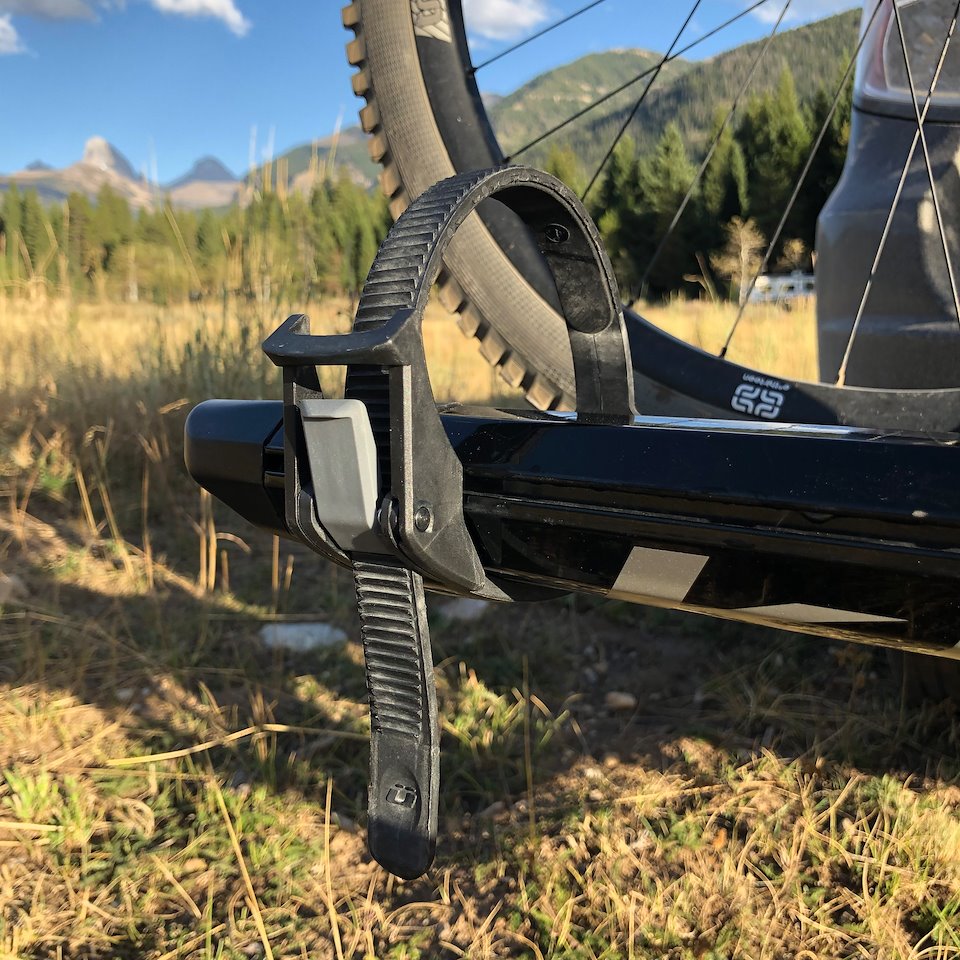 The durable ratchet situation to secure rear tires
KUAT NV 2.0 BIKE RACK — PIVOT LEVER
Of all the upgrades to the new NV 2.0, I would say this is the most impactful change. Previously, it was actually quite difficult to reach your hand down and around the loaded bike rack to the level of the hitch and pull a stiff lever to release the bike rack and lower it for hatch access. It was a task requiring two hands and some bending action or a friend.
I'm guessing I wasn't the only person not thrilled with this complicated process so Kuat has incorporated customer feedback into their new design, moving the pivot lever up to the level of the tire trays.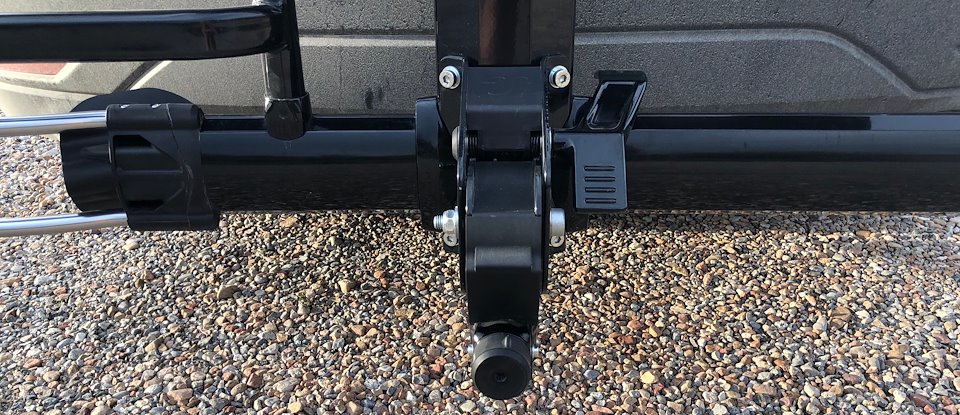 In the closed position, a quick pop from the phalanges and your rack will be ready to load
The new pivot lever position offers significantly easier access and a more effortless maneuver to actually deploy the lever. This switch-up in placement has also made it easier to fold the rack open or closed when the rack is not in use. The placement is conducive to just using your foot (hands free!!) to "open" the empty rack from the closed position. This is much improved since you can retain the use of your hand to support your bike. Both folding and unfolding the rack is more straightforward with the new pivot lever location.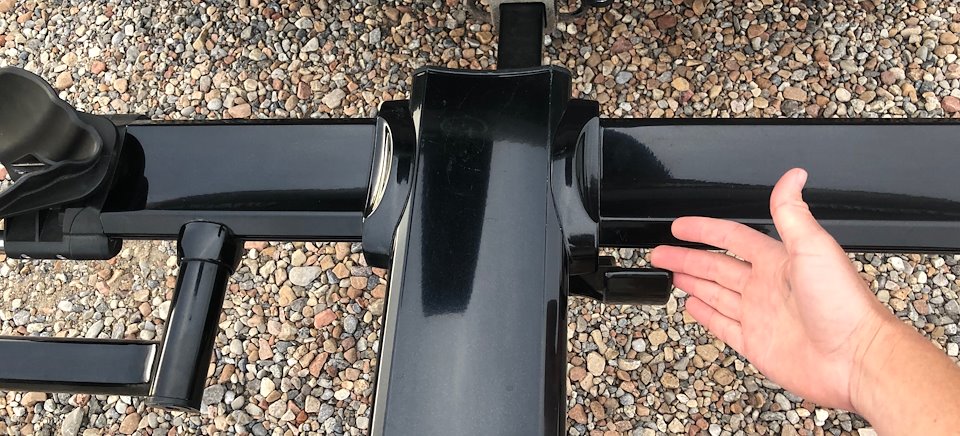 In the open position, grab the lever and pull to shut the rack
KUAT NV 2.0 BIKE RACK — CABLE LOCKS / SECURITY

Two sets of thick cable locks are included to lock each bike
To be honest, as the result of a bit of misfortune I didn't use the cable locks on my old NV. This is because it slipped out of its holster while I was in transit and the friction of dragging it along the asphalt for multiple miles wore the metal fitting down to a nub. I did find that it had trouble remaining in place and found it more an annoyance rather than a beneficial feature. Like many dirtbags, my bike is significantly more valuable than my car so I relied upon a thick chain lock because my lock was rendered non-functional fairly early on.
Fast-forward to the newer Kuat NV 2.0 and you can see they've taken steps to correct this shortcoming. The locks are now magnetized with strong magnets to prevent runaway cable locks, such as I experienced. It does take respectable tug to release the lock so I think this is a better situation than the previous system employed by Kuat. In contrast to the older rack, there are now two locks included, one for each bike, intended to be threaded around the rear triangle of each steed. So instead of one cable lock encircling two bikes, you have two separate locking systems for each bike, which adds to the security of the system.
Trail-Doc 2.0
KUAT NV 2.0 BIKE RACK — TRAIL-DOC
As I compare the features between the NV 2.0—old and new, it seems as though every feature has been slightly reinvented to incorporate thoughtful design and user-friendliness. In the case of the Trail-Doc, simplifying the parts has served to increase functionality and approachability.
Old NV — Incorporation of Trail-Doc was a novel feature. I am not the kind of person who would ever invest in a bike stand. I honestly purchased the model with the Trail-Doc because I believed it would increase the likelihood of resale if I ever parted with the rack. I didn't expect to use it. I was wrong. It was so convenient to wash my bike or apply a quick coat of chain lube. While functional, the O.G. trail doc had many moving parts and was a little clunky to use. It required you to loosen a lever, pull the rod upwards, secure the lever, pull the supporting arm around out to the correct angle with another lever, and then unwind the seatpost clamp by rotating an awkward metal rod many times. Then, you would have to precariously balance your bike aloft with one arm while using a heap of dexterity and fine motor skills to rotate the metal rod to close the clamp around the seatpost. Works, sure, but awkward as heck for someone with puny T-rex arms like myself. It occurs to me now that perhaps you were intended to secure the frame of your bike in the clamp rather than the seatpost…I may never know. Regardless, the new system is way easier to use.
New NV 2.0 — Everything is simplified. Gone are the clunky levers and and twisting action. With the new Trail-Doc, you flip open a covering on the tire tray, pull the rod out and secure it at the proper level. Then to deploy the clamp, you simply twist the knob on the end counterclockwise and it will pop open with a spring-loaded mechanism. Place your bike's frame in the clamp, and one quarter turn of the knob will snap the clamp in place. Tighten with a turn or two of the knob. Excellent! I'm using this feature quite a bit more now that it's not such a process to deploy.
KUAT NV 2.0 BIKE RACK — HITCH SYSTEM
For the new NV 2.0, Kuat has taken the rubberized star-shaped knob and converted it into a smaller, round knob. The hitch itself remains unchanged and purchase of the rack includes a beefy hitch lock which is a wonderful thing to not have to deal with or worry about post purchase. Kuat thoughtfully includes a couple lock covers to help prevent water, dust, and dirt from corroding or ruining the lock. All said and done, it takes me less than 3 minutes to unlock the rack and wrest it out of the hitch receiver to remove the rack. Since I live on a dirt road, I will often remove the rack in foul weather to reduce the mud factor. It's fairly easy to remove and replace in the hitch receiver. The new model includes a lock cover that is now attached where previously it was a loose part (which Kuat has replaced for me for free in the past).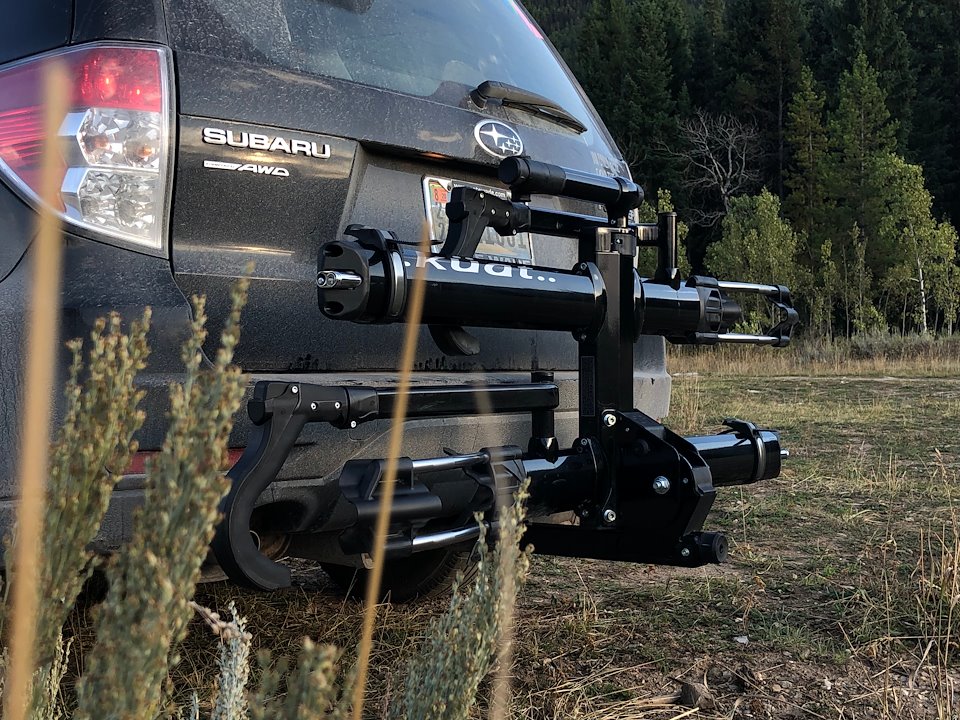 I washed my car for this review – then it rained for 5 days before I could take photos
KUAT NV 2.0 BIKE RACK — LOOKS
Ok, last but not least this NV 2.0 bike rack just looks sleek. It was difficult to pick between the stylie grey metallic with orange or the murdered out black. I for one do not miss the flapping octopus style clamps that prevented the wheels from spinning on my hanger-style rack. This system is so much more contained. It looks good, it functions seamlessly, and it doesn't look like a piece of junk on my trunk.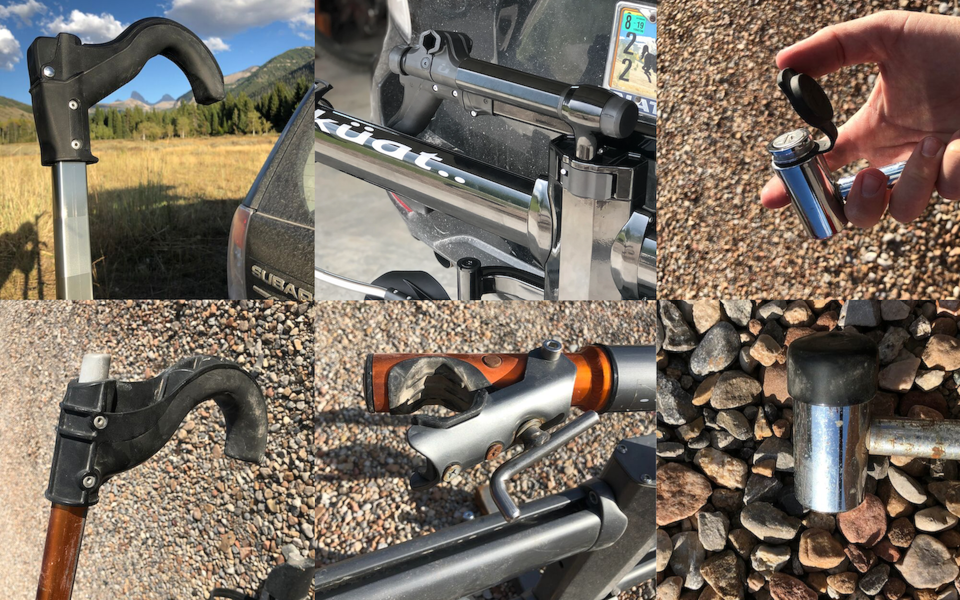 On top are the new improvements and enhancements, the bottom row depicts the older version parts for context about the upgrades Kuat has made
KUAT NV 2.0 BIKE RACK REVIEW — IN SUMMARY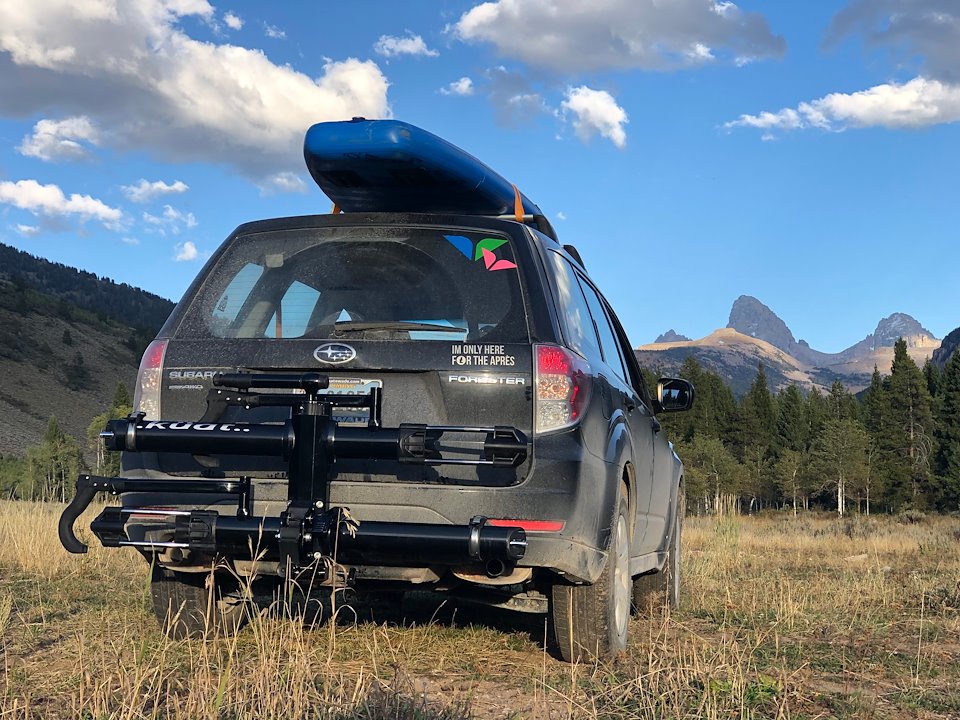 Two seriously gorgeous racks…
In summary, I appreciate the brand ethos of Kuat and I think they approach their product development in a very thoughtful and innovative way. I've used numerous racks, (my own and friends' racks) and none compares to this model. Though the price point is high, these racks are durable and built to last—like I said, my 5-year old rack has plenty of life left and will continue to live on in another hitch receiver. The functionality, refinements to already great features set the Kuat NV 2.0 rack well above the pack. I secretly feel bad for my friends using other racks, but please don't tell them I said that.
···
Full Disclosure: Kuat has reimbursed me for the cost of my rack in return for a product review. All opinions are my own and I have striven to be honest and accurate with all components of this review.