With rivulets of sweat dripping down my face, I picked up the pace in the thicket of the Hawaiian jungle. An interview with Ski Utah was imminent. Embarrassingly, this was my second interview, and not because the Ski Utah folk wished to talk further.
I'd forgotten our first scheduled interview because: mahi-mahi. An odd reason to blow an interview, but a week earlier I'd received a call from the guy running the best poke food truck on Maui. In a rush, he informed me that the mahi were "going bonkers" and did I want a cheap, seat on his buddy's boat leaving tonight (tomorrow?) at 2:00 am from Lahaina's harbor. It was only after steaming 30 miles offshore and catching a slew of voracious mahi-mahi that I remembered I'd forgotten the interview. Face palm. In all honestly, the fresh ceviche I made with limes from the backyard was almost worth the mortification.
I've never missed an appointment, much less an interview, and here I was, sweating profusely while hiking in a Hawaiian jungle, late for my second attempt via Skype. Ski Utah was scouring Salt Lake City for three lucky snow sliders to become Team Athletes. Reading the job description was enough to make me giddy.
(You can check it out HERE.)
Arriving at the trailhead, I peeled out of the parking lot while scolding myself for hiking before an interview. Amateur hour! Desperate for a Wi-Fi connection, the crowded Starbucks at the Queen Ka'ahumanu Shopping Mall would have to do. Describing my sweaty state of disarray and general lack of comportment is too painful to dwell upon. Three friendly faces from Ski Utah materialized on my Skype screen and I passionately babbled about powder skiing in the heavy tropical air.
Two weeks later, still luxuriating in my Hawaiian housesitting gig, winter and skiing were far from my mind. My cell rang from inside my dry bag and I could see an unknown 801 number flashing beneath the transparent material. It was Ski Utah calling to offer me the gig; I tried not to fall off my paddleboard. They invited me to spend the winter exploring Utah's 14 unique resorts, crafting Instagram takeovers, and helping the organization create photos and videos atop Utah's phenomenal mountains.
Finding snow three days after the latest storm at Powder Mountain
Being a 4th generation Utahan, I've always relished sharing this place with friends and strangers. Skiing is the thing I'm most passionate about, so the chance to share my Utah love as a Team Athlete was something I've always been ready for.
Six weeks later, winter was upon us…only it seemed to be taking ice ages to get rolling. Utah's 2017-2018 season would go down as one of the poorest performing winters on record. We waited weeks and then months for the momentum of storms to pick up. Aside from a few respectable pulses, the big dumps remained elusive. When I look at the dismal snowfall totals compared to our average of 500 inches, you would expect a visible cringe or sigh. The reality is, when skiing is bad in Utah…it's still pretty awesome.
Brews at Brighton with the Ski Utah athlete crew
Blower powder days, though harder to come by, did exist, but what surprised me most was how much I enjoyed everything else about skiing. I bought myself a pair of skinny skis, my first since 2008, and relearned the joy of carving on a full cambered, stiff ski. I took backcountry walks, I skied with new people, and explored different resorts. The general lack of powder panic and intense storm tracking helped me slow down and remember what exactly it is that I love so much about skiing.
I volunteered with Snowbird's Wasatch Adaptive Program and saw firsthand how grateful their students were to just be in and among the mountains. I cried while watching a stroke survivor complete his first ski run. He was unable to communicate verbally, but he in turn cried and smiled in gratitude when I told him I had to leave early to celebrate my dad's birthday. The setting sun illuminating Mount Superior behind the silhouette of the old Wildcat Lift. A sunny day with the Ski Utah crew in Honeycomb Canyon. An unforgettable meal and bawdy laughter at Deer Valley. Clumsy, clinking beer mugs and pizza at Molly's after a frigid round of night skiing. Endless powder laps on a weekday at Beaver Mountain, the 2nd generation owner showing us his favorite childhood stashes. Banter, both witty and dim on the chairlift with my friend Mike. Cracking jokes in the snow cat at Powder Mountain. A contest to see if we could ski the Snowbasin groomers top to bottom on our early season legs without stopping…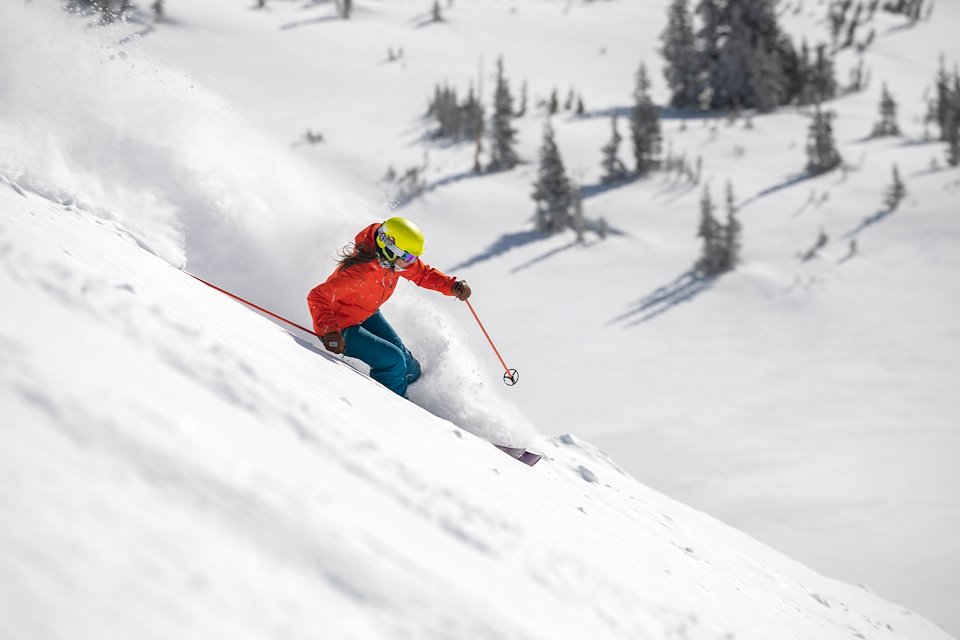 Digging in deep for treasure in Snowbird's Mineral Basin – photo by Matt Crawley
Grinning on groomers at Brighton Ski Resort
Winter 2017-2018 helped me realize it's not all about face shots. It's laughter and the shared experiences amid the powerful energy of the mountains. This is home. This is skiing. This is why I've chosen to live the way I do.
For the 2018-2019 season, I'll continue to assist Ski Utah with Instagram takeovers and photo and video shoots. I'm most excited to begin contributing to their blog and we've already published a bit of summer-related content. If you need me, I'll be busy doing snow dances in preparation for the legendary winter ahead.
Summer 2018 Ski Utah Blog Posts
Summer 2019 Ski Utah Blog Posts
Ski Utah Team Athlete - Project Highlights
A clip filmed with fellow Team Athlete Dillon Green at Alta Ski Resort to celebrate the winter's first storm cycle in January
A video promo with the Snowbird Marketing Team to highlight Utah's longest ski season for an Instagram post. Snowbird Video Footage by: Justin Olsen, Chris Segal, & Dave Amirault
A teaser for the 2018-2019 opening day at Alta Ski Resort from the guys over at Sweetgrass Productions
Instagram collaborations with Ski Utah and various ski resorts
Cheers from Baldy Brews!